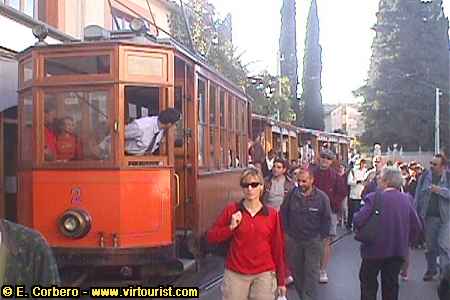 Durante esta excursión variada se explora la isla cn cuatro medios de transporte distintos: con el autocar, el barco, el tranvia y el tren. El autobus recoge los turistas en sus hoteles y está en marcha a la primera estación del día, Inca. Durante la visita por Inca el guía turistico cuenta historias y anécdotas sobre la población. Despúes de la visita de la ciudad el autobús está en marcha a las fábricas de piel y de calzado.
La segunda estación es Calobra. La ruta lleva por la Serra Tramuntana con su paisaje pintoresco, el monasterio Lluc y por delante de las rocas que toman formas animales. En Calobra los turistas pueden disfrutar las playas hermosísimas y el paisaje impresionante. Para almuerza se puede acompañar el guía o se busca un restaurante.
Con el braco se lluega a la última estación, el Puerto de Sóller. Allí se puede visitar el Puerto de Sóller y también Sóller. Del Puerto de Sóller a Sóller está en marcha un tranvía que es el más famoso de la isla. De Sóller el tren histórico lleva a Palma.
On this diversified excursion you discover the island with four different vehicles: by bus, by ship, by tren and by tram. The bus picks you up the turists in their hotels and brings them to their first stop of the day, Inca. On the tour through Inca your tour guide tells you interesting stories and anecdotes about Inca. After the tour you will visit the shoe and leather factories. From Inca you drive by bus to Calobra. The route goes through the Serra Tramuntana with their picturesque landscape, the Monasterio Lluc and rocks, which look like animals. In Calora the turists can enjoy the beautiful beaches and the impressiv landscape. With your tour guide you could havew lunch or you look on your own for a restaurant.
To your last stage, Sóller you get by boot. There you can as well visit Puerto de Sóller as Sóller which you reach with an old tram. From Sóller you take the historical train back to Palma.
Bei diesem abwechslungsreichen Ausflug erkundet man die Insel mit vier verschiedenen Fahrzeugen: mit dem Bus, dem Schiff, der Strassenbahn und dem Zug. DerBus holt die Turisten in ihrem Hotel ab und fährt sie zu ersten Station des Tages, Inca. Bei der Führung durch Inca erzählt der Tourguide Geschichten und Anekdoten über den Ort. Nach der Stadtführung geht es zu den Leder- und Schuhfabriken. Von Inca fährt man mit dem Bus weiter nach Calobra. Die Strecke führt durch die Serra Tramuntana mit ihrer malerischen Landschaft, dem Monasterio Lluc und vorbei an Felsen, die die Form von Tieren haben. In Calobra können die Turisten die wunderschönen Strände und die eindrucksvolle Landschaft geniessen. Zum Mittagessen kann man den Tourguide begleiten oder auf eigene Faust sich ein Restaurant suchen.
Zur letzten Station, nach Sóller, geht es mit dem Boot. Dort kann man sowohl Puerto de Sóller als auch Sóller besichtigen, zu der man mit einer alten Strassenbahn gelangt.
Von Sóller fährt man mit dem historischen Zu zurück nach Palma.